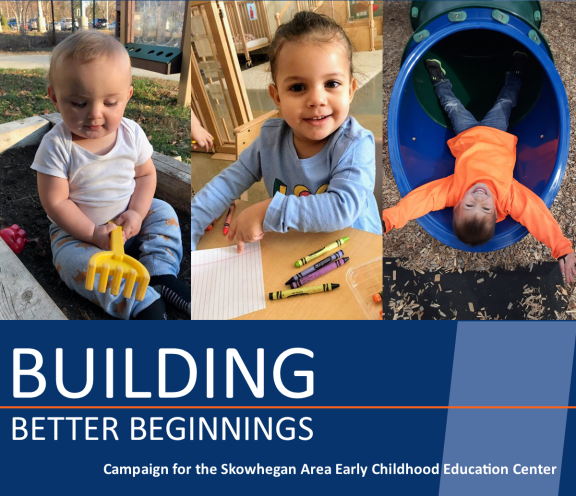 The Department of Education (DOE) has determined that a new elementary school in Skowhegan is critical for the region.  This $75.44 million construction project breaks ground in 2023. The plan design includes a dedicated early childhood wing; a first for the State of Maine and the first of its kind for a Maine DOE new school construction!  The early childhood wing will be based on the Educare Central Maine model.
The DOE will provide all of the funding except for $4.5 million. The success of a $3 million fundraising campaign for the early childhood wing includes $2.5 million to support the build and $500,000 to fund quality programming. The remaining $2 million for the build will be covered by a bond approved by Skowhegan voters.
In partnership with Kennebec Valley Community Action Program and the community, Skowhegan's new school will serve children birth to 11 years, providing continuity for children and families. The longstanding success of (Early) Head Start and the outcome results of Educare Central Maine serve as key influencers of this community early care and education model.
Join us in building better beginnings for our community's children and families!
Building Better Beginnings Interest Form
I am interested in supporting the Building Better Beginnings campaign. Please have someone contact me with more information.
How to Donate
For more information on ways to support the campaign, please contact Tracye Fortin at tracyef@kvcap.org or (207) 859-1616.
Cash
A gift of cash, check or credit card is the most  common and convenient way to give to Kennebec Valley Community Action Program (KVCAP). Gifts may be made outright or pledged over a period of up to five years. Credit cards are accepted on our secure giving platform found on our website.  Checks can be mailed to Kennebec Valley Community Action Program, Attention: Tracye Fortin, 101 Water Street, Waterville ME 04901.
Corporate Giving
Under the current tax laws, a corporation may claim a charitable deduction up to 10 percent of pre-tax net worth.  Any excess in a year may be carried over to as many as five (5) years.  The maximum federal savings of such charitable gifts is 35%.
(Note: Changes in the tax laws may alter the information given here.  Consult your tax advisor for up-to-date information as it pertains to your situation)
Appreciated Securities
Outright gifts of appreciated securities (stocks, bonds, mutual fund shares) to KVCAP are tax deductible at full fair-market value. To avoid capital gains taxes you must donate the actual securities, not the proceeds of their sale. Gifts of publicly traded securities (including bonds) and some restricted stocks are valued at the stock's average of the high and low price on the day the stock is credited to the KVCAP account.
To take advantage of this tax-wise way to support KVCAP, please contact your broker with the following information:
DTC Eligible Securities (Stock)
Participant ID (DCT#): 0075
LPL Financial
FBO: Kennebec Valley Community Action Program
Account #4296-2382
To donate now with a credit card, click the button below to use our secure form: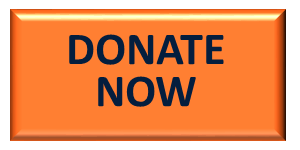 ---
Campaign Committee
Sam Hight, Campaign Chair; Principal, Hight Family of Dealerships
Tracye Fortin, Campaign Director, Chief Operating Officer, KVCAP Child & Family Services and Educare Central Maine
Chelsey Carrier, Lawyer; Member, Carrier Chipping; Committee Chair, Skowhegan Backpack Program
Nicole Chaplin, Program Director, Early Childhood, KVCAP Child & Family Services
Gail Gibson, Veterinarian, Animal Medical Clinic; Member, KVCAP Board of Directors
Michael Lambke, Physician, Redington-Fairview General Hospital
Erin Merrill, Senior Director of Major Gifts, Thomas College
Jonathan Moody, Superintendent, Maine School Administrative District #54
Richard St. Pierre, CPA, CFO; Member, KVCAP Board of Directors
Suzanne Walsh, Chief Executive Officer, KVCAP
Letter to Skowhegan Community Members from the Campaign Committee
---
Infant/Toddler Child Care Wing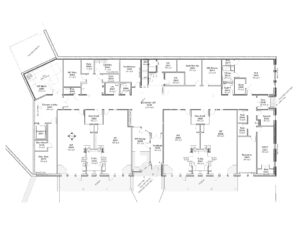 Preschool Wing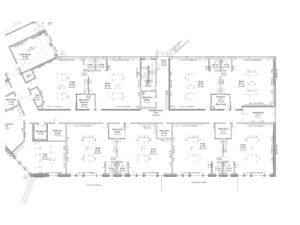 To learn more about the build, visit the MSAD 54 website here.