Home Energy Assistance Program
KVCAP offers Fuel Assistance to qualifying households. The Home Energy Assistance Program (HEAP) serves Somerset and Kennebec counties. Lincoln and Sagadahoc counties are now served by Midcoast Maine Community Action.
HEAP provides assistance for income eligible households to help with the rising costs of home energy.  It could help with wood, electric, gas, or oil heat. The benefit is paid directly to the client's fuel vendor of choice.
Click here to book an appointment
If you have questions regarding an existing application, please complete this form.
This program has income guidelines. It is important to check to see if you qualify. We can deduct for proven medical expenses paid as well as other things. Please make and appointment and speak with a HEAP Intake Specialist if you are unsure about whether you may qualify or not.
Home Energy Assistance Program (HEAP) Income Eligibility Guidelines
2023 – 2024 Season
Maximum gross household income is based on the number of people in the household. For households with more than 10 people, please contact us for eligibility guidelines. Other program guidelines and requirements may apply.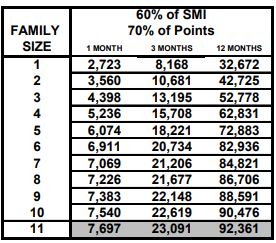 You MUST bring this information to your appointment: You may qualify if you are a renter, renter with heat included, homeowner, subsidized renter, employed or unemployed, or have income earned by wages or other sources.
Valid/unexpired Government issued photo ID for the primary applicant
Social Security cards for all household members
Current electric bill (can't be a disconnect notice)
Proof of all income received during 30 days prior to your appointment or previous month for all household members

current social security/SSI/SSD/VA award letter
pay stubs for ALL pay dates within last 30 days or previous month
2022 tax return and/or profit and loss statement if self-employed
statement from SNAP/TANF/Unemployment/Worker's Compensation
proof of alimony/child support
proof of rental income
statements for any pension/retirement/annuity/interest/dividends received
any other proof of income you may have from odd jobs or other income sources
Each application is different. You may be required to produce other information. If you need more information on where to get these documents, please click HERE.
If you want to reduce the amount of time spent at your appointment, Print and complete the "Permission to Share Information Form" and bring it with you to your appointment. The "Permission to Share Information Form" must be signed by ALL household members over the age of 18.
The most common cause for fuel assistance delays is missing documentation. Please review the list above for what you need to bring to your appointment and make sure you bring everything needed with you or your application will not be processed.
For more information please contact (207) 859-1500 or toll free 1-800-542-8227 ext. 1500 or email energy@kvcap.org.